Dancing with Connection | The Basics of Tantric Leading & Following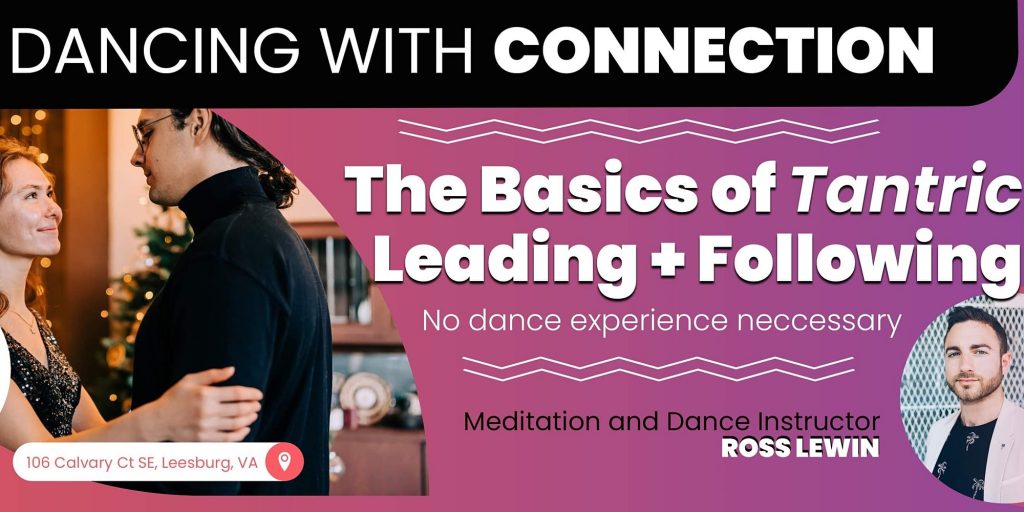 Ticket link: https://www.eventbrite.com/e/267920737137/
Learn to dance with another human by reading their heart and by sharing yours.
In this class, a fusion of tantra and partner dancing, you will learn how to lead or follow a dance partner, never step on their toes, and enjoy more connection in your dance experience. No experience in partner dancing is required.
What if you could stay completely in sync with your partner, or any partner, without a word? What if you could move together as one with only the slightest touch, with just a look, or even by closing your eyes and listening?
If you choose to lead, you will learn how to lead another body through time and space safely with ease and grace. If you choose to follow, you will learn the basic cues to listen for to tell you how and where to move. Tuning in deeply to non-verbal communication and keeping your heart open are the keys to tantric dancing.
The class will start with learning the physical lead/follow dynamics and how to connect clearly through touch and gentle pressure.
However, the most beautiful dance couples have an energetic connection that we will explore and cultivate through tantra: breath, sound, and movement. This connection bypasses any external communication. This is leading from the heart.
Taught by Ross Lewin, a certified meditation facilitator and dance instructor with over 10 years experience. Ross has performed professionally with several salsa and bachata teams in the DC area and brings mindful movement practices to every dance floor he can find.
Covid protocols:
We require negative test results prior to entry. We have a limited number of rapid tests available, so please make every effort to obtain one on your own. $25 per test. Please contact us if needed.
Ticket link: https://www.eventbrite.com/e/267920737137/