Energy Sxx | an exploration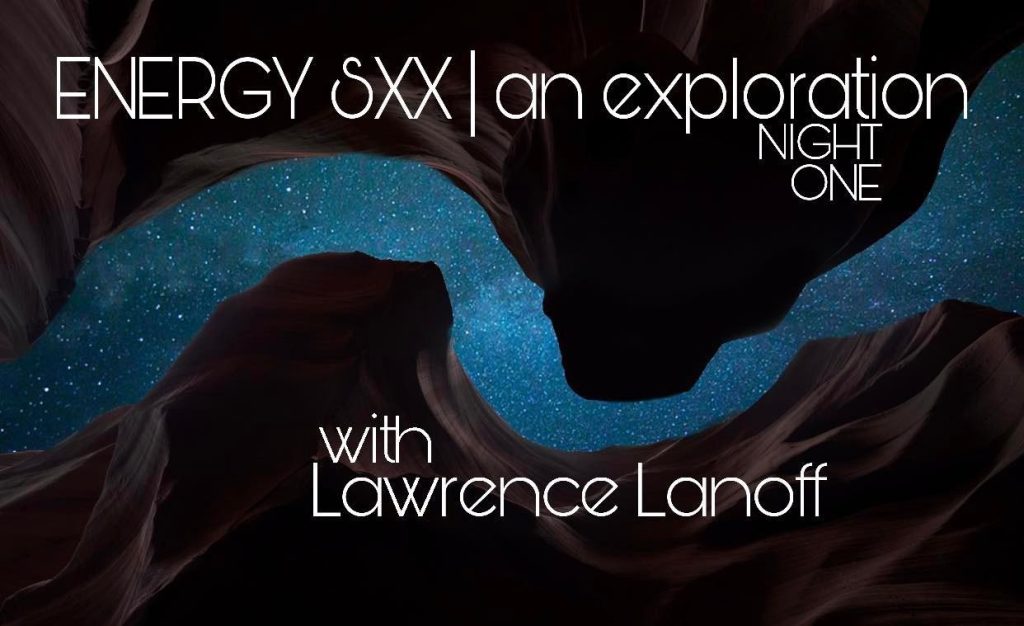 ENERGY SXX | NIGHT ONE: Exploring Self Expression through Creative Energy Movements
"Life always delivers the creative energy you need to change into the new thing you must become." – Rob Brezsny
Welcome to Night One of ENERGY SXX | Exploring Self Expression through Creative Energy Movements with Lawrence Lanoff
In this class, participants will have the opportunity to tap into their own unique energy signature and use it to express themselves through movement and energy play. Through a series of gentle yet dynamic exercises, participants will learn how to let go of self-consciousness and fully embrace their authentic selves.
Taught by our dear friend, mentor and energetic conduit like no other, Lawrence Lanoff, this class is expertly created to bring you an experience like no other. If you are new to energetic aliveness in your body & others, or are wanting to hone your awareness and skills, this all levels class is a great place to start or start again.
Temple in the Trees Hosts & Tantric Educators, Lara & Michael Blackin welcome you to their home and to the exceptional teachings of Lawrence Lanoff in a three night series of classes on Energy | an exploration.
Tuesday, March 28th NIGHT ONE : ENERGY SXX Exploring Self Expression through Creative Energy Movements
Wednesday , March 29th NIGHT TWO : EXPLORING FLOW
Thursday, March 30th NIGHT THREE : SPIN THE ROOM | Opening to Your Extraordinary Self
Single Night Ticket: $99
All Three Nights : $269
Total Attendees: 30
Light snacks are provided.
Doors Open 7:00 pm
Class starts promptly at 7:30pm.
Location: Temple in the Trees | 106 Calvary Cr SE Leesburg VA 20175
Ample Street Parking available
ABOUT LAWRENCE:
Lawrence Lanoff is an award winning Tantric Master, Clarity Coach, and best-selling author. He offers body-positive, street-wise wisdom, that helps people move ahead in CLARITY. Lawrence questions cultural myths about sex, spirituality and money. He deprograms students from the prisons of societal beliefs, norms, and superstitions. Lawrence is creator of The Yorgasmic Method, the basis of his new book, The Future of Sex. His other books include, A Course In Freedom, Ejaculation Secrets of a Tantra Master, and The Prophets Training Manual. His programs have supported thousands of people on their path to CLARITY and freedom. Lawrence lives in Sedona, Arizona.
website: https://www.lawrencetheenergymaster.com
COVID PROTOCOLS: This is an adult space. We are trusting all in attendance to use your best judgement and attend if it feels in alignment with you and your health & the health of others.
FREQUENTLY ASKED QUESTIONS:
When do I need to ARRIVE?
Please arrive early so we can close the doors promptly at 7:30pm ET. Doors open at 7:00pm ET.
What should I BRING?
Bring your curiosity, and,
-Comfy clothes
-Maybe a notebook
-A closed-top water bottle
-An open heart and mind
What should I WEAR?
Dress in comfortable clothing that allows movement and engagement. We welcome sexy fun clothing that makes you feel good.
TESTIMONIALS:
"Lawrence is by far one of the most intuitive people in the world. Just being in his presence you feel serenity and a sense of calmness knowing that whatever is said is safe and will be well received." ~ David Wygant, International Speaker, Author and Relationship Coach.
"Lawrence's work has completely revolutionized my life.I thought it was about my sexuality. But it turns out, it's about every area of mv life."~Alina Neberakova, Entrepreneur.
Temple in the Trees is a delightfully safe haven for exploration and connection, and the exploration OF connection. ~ B. Miranda
"I have known Lawrence for nearly 3o years and have seen how tenaciously he has probed the inner workings of life. He has worked to unravel the causes of what really works and what does not." ~ Jonathan Parker, PhD., World Renowned Teacher, Author of One Of The Largest Self Help Libraries In The World.
Heart and safety are at the core of engaging with Temple in the Trees. I took a Tantra series course that opened me up to a journey through personal discomfort, release, acceptance, and self love. I felt safe to get naked and boast as one assignment asked us to do, if we felt like playing. To be raw and present in your sexuality, I can think of no safer space nor with people that care for you any deeper. ~ Jacquelyn D.