Ignite Your Passion | Connective Weekend for Couples – Tantric Retreat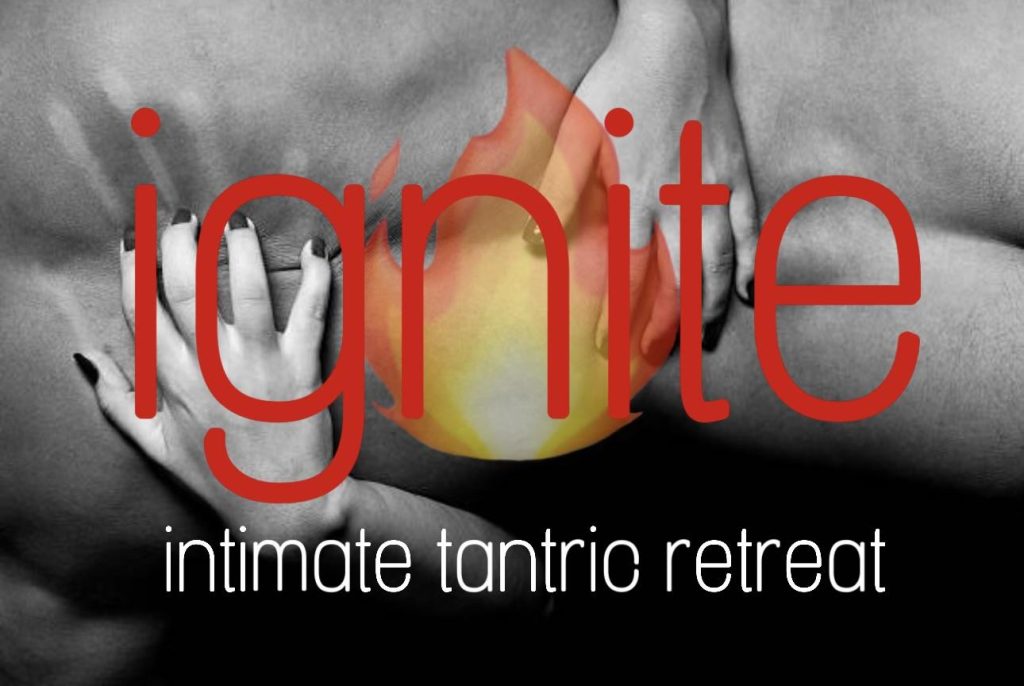 Three night, two day tantric workshop focused on creating deep intimacy based on presence, intention, communication, and TOUCH.
In the course of our tantric coaching, we get a lot of curiosity about touch, connection, pleasure and sex. For example:
How can I experience more pleasure for myself and in my relationship?
Does tantra teach us how to bring more love to our lovemaking?
How do I make space for touch, pleasure and sex in my busy life?
How do I bring more pleasure to my partner through touch?
And most importantly: How do I keep the spark alive in my relationship?
What if you could nurture your spark to ignite a white hot passion? What if you had the tools to touch and be touched to maximize pleasure? What if you and your beloved could spend a whole weekend with no responsibilities other than to kindle intimacy, connection and deep desire?
If this sounds alluring in your body, then the Ignite Your Passion – Connective Weekend for Couples is for you.
What will I experience in this workshop?
This fully immersive and experiential weekend is designed to deepen intimacy and have some fun. You'll learn :
Tools for greater presence.
Expansion of your definition of lovemaking
Techniques for more intentional and pleasurable touch.
Tantric practices to bring home and enjoy for the rest of your life.
How some kink can add spice and flame to an already hot relationship.
Understanding of what sacred sexuality is and why pleasure is your birthright!
What does the schedule look like?
Friday 7pm – 11pm
Arrive by 7pm and circle together to drop in, form intentions and learn about the weekend.
Presence practices, both solo and in connection with your partner.
Learn tantric touch concepts and immediately put them into practice with your partner.
Saturday 9am – 11pm
Arrive by 9am
Additional types of touch exercises
Rituals to embody greater sensuality in connection
Learn tantric touch concepts and immediately put them into practice with your partner.
Lunch break from 12 – 2
Dinner break from 6 – 8
Ends by 11pm
Sunday 10am – 8pm
Arrive by 10am
Amping up, more intimate touch rituals
Learn more intimate concepts around tantric touch and put them into practice with your partner.
Finish by putting all the presence, touch practices and rituals together into a full tantric massage experience with your partner.
Lunch break from 12 – 2
Ends by 8pm
Frequently Asked Questions:
Covid protocols: This is an adult space. We are trusting all in attendance to use your best judgement and attend if it feels in alignment with you and your health & the health of others.
Will people be disrobed? This a personal preference at your discretion. While nothing is a "have to", and everything is an invitation not a requirement, there will be practices where attendees may be disrobed. Agreements will be discussed at opening.
Will there be confidentiality? Yes, and all agreements will be discussed at opening circle.
When do I need to arrive? Please arrive on time so we can get started promptly. 7pm on Friday, 9am on Saturday and 10am on Sunday.
What should I bring? Bring your curiosity, any comfort items to aide in creating a comfortable place to nest. maybe a notebook, a closed top water bottle, and an open heart and mind.
What about food? We will supply you with snacks throughout, water, tea. We will not serve meals but rather we have breaks in the schedule for you to go out or have meals delivered.
What should I wear? Dress in comfortable clothing that allows movement and engagement. We welcome sexy fun clothing that makes you and your partner feel good.
What about housing? This is not a residential retreat. If you're not local, we will be happy to give you recommended hotels. There are also a lot of gorgeous airbnb's in the area.
Recent Testimonials:
Temple in the Trees is a delightfully safe haven for exploration and connection, and the exploration OF connection. Michael and Lara deftly lead us through a series of exercises designed to put us more in touch with ourselves and others as we explore our own boundaries and challenge ourselves to come right to our edges with confidence and curiosity. I cannot recommend this space and these facilitators more fervently. I often imagine what the world at large could be like if only everyone would take the time to walk this path with themselves and their fellow humans.
~ B. Miranda
Heart and safety are at the core of engaging with Temple in the Trees. I took a Tantra series course that opened me up to a journey through personal discomfort, release, acceptance, and self love. I felt safe to get naked and boast as one assignment asked us to do, if we felt like playing. To be raw and present in your sexuality, I can think of no safer space nor with people that care for you any deeper.
~ Jacquelyn D.
What I have received in my life as a direct result of the practices at the Temple in the Trees is almost impossible to communicate with words. I have learned a level of self-expression and understanding of my energetic nature that I never even knew existed or even fathomed was within my grasp. Michael and Lara create a sacred and protected space, a circle, that allows me and all of the others that are participating to transcend the immediate recognition of what "is" to safely explore the possibility of what "can be." Through these enlightening sessions, my partner and I have been able to connect with and understand each other in ways that defy the social and cultural programming that defined our lives for so many years. To discover that I can specifically sense my Lover's presence in a room full of other people was absolutely mind-blowing and exhilarating. This has also given us the ability to embrace the love and compassion of others on a different level. While I am not a particularly religious person, I have experienced an existence of something on a very spiritual plane and I have felt an incredibly powerful transformation of my connection with "being" human.
~ R. Grimes
They are both gifted and poignant facilitators with a calming effect on hundreds of participants.
~ Gordon McCracken
WHERE:
The Temple in the Trees, Leesburg Virginia  is our home.
We welcome you here as a space for you too to come home to yourself in.
An oasis of tantric learning tucked in the woods of Northern Virginia, we are 30 minutes from DC & Frederick MD, an hour from Baltimore and 15 minutes from Dulles Airport.
Surrounded by wineries, nature, magnificent mountain view's and historic rivers, we are a destination of peace and prosperity.
WHO:
~ Your Guides ~
Lara & Michael Blackin
– – – – – –
Lara Blackin
Lara is a Tantric Educator, Sacred Intimacy Practitioner and Artist specializing in therapeutic, sensual &  energetic touch bringing aliveness to the art of living + loving.
Lara supports the curious on their journey toward mindfulness and connection with conscious communication tools, intimacy practices, tantric embodiment exercises, and acclaimed artistry.
A 1000/hr e-ryt Professional Yoga Educator, 500/hr KRI Kundalini Teacher, Certified Pranassage Practitioner, Nationally ACRB Certified Reflexologist and Internationally certified ICNHA Mendi Henna Artist, Lara is a leader in the field of sacred embodiment with over 25 years of professional experience.
An herbal alchemist and ceramics artist, she calls upon the elements of nature to create pleasure and harmony.  Lara is the owner of Tendrils of Green Tantric Arts and writes beautifully poetic essays and creates erotic art at tendrilsofgreen.com.
As co-proprietor of Temple in the Trees, a sacred space for community tucked away in the forests of Northern Virginia, Lara facilitates tantric learning, hosts monthly Women's Circles, movement + meditation classes, events and play to enable people to connect with others and express themselves in a safe, nonjudgmental environment.
• • •
Michael Blackin
Michael is a Tantric educator who is passionate about supporting people on their journey to greater presence, intimacy and pleasure.  He is dedicated to helping others reach their highest good, creating community, pursuing bliss and enriching all comers.
As co-proprietor of Temple in the Trees, a sacred space for community tucked away in the forests of Northern Virginia, Michael facilitates tantric learning, monthly men's circle gatherings, movement classes, meditation, events and play to enable people to connect with others and express themselves in a safe, nonjudgmental environment